Alabama is known by a variety of names, including Cotton State, Heart of Dixie, and Yellowhammer State after its official bird. Spanish explorers visited the region in 1540, but the French colonized the region and founded Mobile in 1702. Due to its proximity to the Gulf of Mexico, Alabama is a great place to enjoy water sports.

The arts, cultural, and entertainment scenes are all very active in the 22nd state. However, because the state is susceptible to hurricanes, you might want to check with the weatherman before traveling.
Do you have questions about what to do in Alabama if you're considering a trip to the South? We have your back. Prepare to learn something when you visit Alabama, a Gulf Coast state wedged between Georgia and Mississippi. White sand beaches, huge forests and lakes, and the Appalachian Mountains are just a few of the breathtaking landscapes to select from for some outdoor relaxation once you've thoroughly digested your history lesson. Discover some of the top tourist destinations in Alabama by reading on.
10 best tourist places to visit in Alabama USA
10. Huntsville (Alabama USA)
One of Alabama's largest cities, second only to Birmingham in terms of population size, is located in the Appalachian region of the northern part of the state. Incorporated as Alabama's first town in 1811, Huntsville has been a prominent center of industry ever since, beginning with the cotton and railroad sectors in the early 1800s, followed by textile mills after the Civil War, and finally excursions into biotechnology and spaceflight.
The US Space and Rocket Center, the biggest spaceflight museum in the world, is one of Huntsville's claims to fame. Visitors have the option of engaging in immersive experiences like a flight simulator or the Apollo 11 Virtual Reality experience, as well as viewing educational displays and planetarium programs. Even weekend sessions with astronaut training exercises are available at the institute.
Almost every interest is catered to in Huntsville's museums, but the city's setting in the foothills of the Appalachians may encourage you to spend the majority of your time outside. The Huntsville Botanical Garden's 112 acres and variety of habitats make it a well-liked destination to explore all year long. The Harmony Park Safari, a federally authorized wildlife park featuring wandering giraffes, zebras, kangaroos, and other animals, is open from March through November. Monte Sano State Park, which has a planetarium, a Japanese garden, and hiking and biking paths, is located about five miles northeast of the city center.
9. Dauphin Island (Alabama USA)
If you're a migrating bird, Dauphin Island, which is off the coast of Mobile, is a rest stop on the route from South America. On their migration north, birds frequently encounter the island first. On the island, there are a number of bird sanctuaries, but Audubon Bird Sanctuary is the most significant.

The beaches on islands are named for the Dauphin of France, Louis XIV's great-grandson, and they have beautiful sunsets. Those who have heard the expression "Damn the torpedoes! It first appeared here with Admiral Farragut during the Battle of Mobile Bay in 1864. In the past, the fortified Fort Gaines guarded the entrance to the bay.



Read more – 21 Best tourist places in USA must visit
8. Little River Canyon National Preserve (Alabama USA)
The Little River Canyon National Preserve is anything but little, despite its name. The 15,288-acre preserve is located in northeast Alabama, close to the Georgia border, in the Southern Appalachians. It is remarkable for a variety of factors, one of which being the flow of its river, which runs nearly the full length of a mountain. Additionally, the river's water quality is exceptional. The preserve is renowned for the variety of plants and fauna it contains.
The Little River Canyon National Preserve is one of Alabama's most well-liked outdoor tourist destinations, with about 800,000 people annually. The abundance of activities offered is largely responsible for the park's appeal. Whitewater rafting on the challenging Little River is available for thrill-seekers, and they can also scale vertical sandstone cliffs by rock climbing, bouldering, or rappelling. Kayaking, hiking, biking, and horseback riding are more sedate activities.
It would be impossible to visit Little River Canyon National Preserve without spending some time taking in the local fauna. While hunters practice patience in search of deer and turkeys, anglers can benefit from the river's superb fly-fishing prospects. The area is home to 142 different species of birds, making it a pleasure for birdwatchers as well.
7. Orange Beach ( Alabama USA )
On the Gulf Coast of Alabama, near the Florida border, the resort city of Orange Beach has a population of 5,500. If you want to relax, it's one of the best spots to go in Alabama. You may stay in beachfront accommodation and play some basketball or tennis at a recreation center if you become bored with water sports.

Dolphin watching is also a popular activity in Orange Beach, or you can follow the locals' example and visit the Orange Beach Islands. The four islands can be reached by boat and are situated in Perdido Pass. The islands are a favorite among those who enjoy water activities and are a wonderful area to spot seabirds and marine creatures.
6. Mobile (Alabama USA)
Alabama's only saltwater port is Mobile, which is situated near the mouth of Mobile Bay. The largest city on the Gulf Coast between New Orleans and St. Petersburg, Florida, is located in third-placed Alabama. It is a seaside cultural hub with museums, art galleries, and opera, ballet, and symphony companies.


Azaleas are in full bloom in the city in the early spring, and in February it hosts the oldest planned carnival in the United States, which was started by French Catholic settlers in the early 1700s. Antebellum architecture, a fusion of numerous forms present in nine significant historic districts, is well-known in Mobile.
5. Cheaha State Park (Alabama USA)
Alabama's highest point is Cheaha Mountain. The state park bearing the name of a Cree Indian term is where the 2,413-foot (735-meter) high peak is located. Cheaha State Park, which is inside the Talladega National Forest, offers excellent hiking and access to other trails as well as the Appalachian Trail.


If you prefer to ride through nature rather than trek, there is even a trail for ATVs. Camping to a five-star lodge are all options for lodging. The employees at the park can assist you in planning your wedding if a lovely outdoor setting is your preferred location. The park is also well-liked by day visitors.
4. Montgomery (Alabama USA)
Montgomery, the state capital of Alabama, has a distinguished past, but Rosa Parks is largely responsible for its current fame. When the African-American woman refused to give up her seat on a bus to a white man in 1965, she made civil rights history. In a cruel turn of events, the Confederacy was founded in Montgomery in 1861.

Today, this Alabama River metropolis is renowned for its many skyscrapers, arks, and one of the best art scenes for a city of its size in the country. At its Blount Park theater, Alabama Shakespeare Festival performs plays by Shakespeare all through the year.
3. Noccalula Falls Park ( Alabama USA)
Noccalula Falls Park's waters conceal a tragic romance. Legend has it that on her wedding day, Noccalula decided to plunge over the 90-foot falls rather than wed the wealthy chief her father had chosen for her. At the falls that plunge into the Black Creek ravine, you may see a nine-foot-tall statue of her.

The 25,000 azalea bushes in this Gadsden park, however, prove that beauty can exist in the midst of grief. You can explore the park's paved hiking track while camping here, let your children play at the petting zoo, and go to Pioneer Village to learn about the past.
2. Gulf Shores (Alabama USA)
A well-liked vacation spot on the Gulf of Mexico is Gulf Shores. It's a great area to go ocean fishing, play golf at two top-notch courses, or go dolphin watching, and it's only 54 miles (87 km) from Mobile. In addition to the typical beach activities, you may take the family to an amusement park or a sunset cruise on the Gulf.

Late April is the best time to travel if you like to party. The world's largest beach party is said to occur at that time. Participate in the amusement by tossing a dead mullet across the border with Florida.
1. Birmingham Civil Rights Institute (Alabama USA)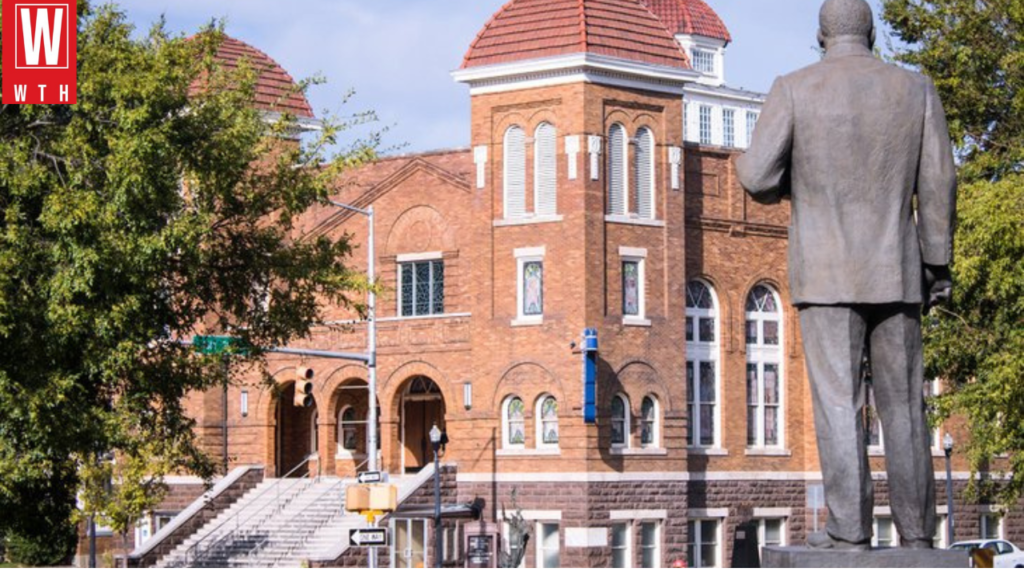 The Birmingham Civil Rights Institute offers a comprehensive look of the Civil Rights Movement's activities in Birmingham and around the US in the 1960s as well as current problems that African Americans have encountered ever since. The galleries host both ongoing and one-time exhibits on a range of subjects, including segregation and violent conflict.


The conflict that started in Birmingham was a part of a larger social movement that finally brought about changes, and the bombing of the Sixteenth Street Baptist Church on September 15, 1963, was a turning point in that movement. The Klu Klux Klan planned this attack, which resulted in the deaths of four girls and added to the urgency of passing the 1964 Civil Rights Act.
The Birmingham Civil Rights District, which spans a six-block area, is anchored by the Birmingham Civil Rights Institute, which is located at the intersection of Sixteenth Street and Sixth Avenue North. The Fourth Avenue Business District, Kelly Ingram Park, and Carver Theater are further points of interest.

Birmingham, Alabama, 520 16th Street North

Official Site:: www.bcri.org
FAQs
Q. Is Alabama good for tourists?
Q. What is Alabama famous for?
Q. Why is Alabama a good place to visit?
Q. Is Alabama good for tourists?
Q. What is Alabama famous for?
Q. What is most popular in Alabama?
Q. What is the top 10 tourist places in Alabama?
Q. What is the most interesting thing in Alabama?
Q. What is the most visited city in Alabama?
Q. What is the number 1 tourist attraction in Alabama?
Q. What are 3 things Alabama is famous for?
Q. Why do tourists visit Alabama?