Happy Internaut Day – August 24, 2022, history, quotes
The internet is the newest great frontier, a place where every new innovation creates a new virtual world deep within the web. While space will always be the final frontier (Except for those brave souls who consider death the last great adventure) the internet will always be a growing and expanding frontier. Internaut Day celebrates those men and women (and those without a binary identifier) who have helped to build the great frontier that is the Internet.
The Internet is becoming the town square for the global village of tomorrow."- Bill Gates

worldtimeshindi.com
HISTORY OF INTERNAUT DAY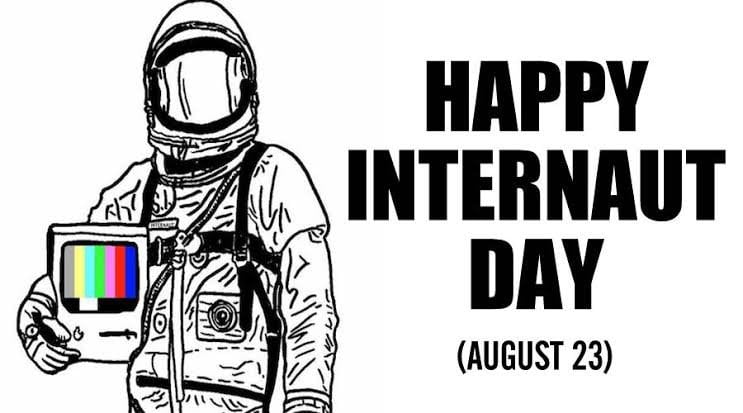 The Internaut Day marks the birth anniversary of the World Wide Web (WWW). The day is observed on this date as it was the official date back in 1991 where the WWW had given the public access for the very first time by Tim Berners-Lee. Now the Internaut Day is, being celebrated on the same date every year.
Without ambition one starts nothing. Without work one finishes nothing. The prize will not be sent to you. You have to win it.

Ralph Waldo Emerson

worldtimeshindi.com
The portmanteau of Internet and Astronaut had brought out a new word called Internaut. In precise, Internaut refers to the designer, operator, or technically skilled user of the Internet. The Internaut Day is celebrated to honor these people who helped in the establishment of the internet.
It is important to note that the internet and World Wide Web are two different things. The internet is a mass network of computers, whereas the World Wide Web is something from which you can access and share information across the network of computers. Tim Berners-Lee was a British researcher and computer scientist who was worked at CERN and was the first person to imagine the concept of internationally accessibility and exchange of information in March 1989.
His thought had kindred other scientists to research further on the concept. Tim Berners-Lee had submitted his WWW proposal in a descriptive format in the year 1989. Information Mesh, The Information Mine, & Mine of Information was the initial names he thought for the WWW.
If you believe very strongly in something, stand up and fight for it.

Roy T. Bennett,

worldtimeshindi.com
Other Celebrations on August 24

August 24 is also celebrated as

International Strange Music Day
Pluto Demoted Day
Vesuvius Day
National Peach Pie Day
National Knife Day
Learn the rules like a pro, so you can break them like an artist.

Pablo Picasso

worldtimeshindi.com
Let's celebrate World Internaut Day with some mind-blowing stats:
At least 40 percent of the world has access to the internet
There are 3.4 billion internauts as of 1 July 2016, half of these are on Facebook.
There are at least 1 billion websites on the WWW
The internet is host to almost one zetabyte of data
The average global connection speed is 5.7 Mb/s
South Korea offers the highest average connection speed of 26.7 Mb/s
India's average connection speed is 2.5 Mb/s
At least 48.5 percent of internet traffic in 2015 was generated only by bots
As a whole, humanity tweets 7,300 times a second
We transfer and access 37,000 GB of data per second
We search for 56,000 items per second on Google
We consume 129,000 YouTube videos per second
We send 2.5 million emails per second
Lolcats is worth $2 million
Searching for 'cats' on Google will get you 680 million hits
BitTorrent "only" makes up about 25 percent of the internet traffic in Asia-Pacific, same as YouTube.
How to celebrate Internaut Day

Celebrating Internaut Day is best done by researching the internet and learning more about navigating and existing on the internet. The virtual world is a truly interesting place, but there are dangers to traversing it that may not be obvious to the general user. We are all part of the growing internet, and maybe today is your day to begin contributing to it if you haven't been already.

There's a lot of ways that we can contribute, whether by building a website of our very own or starting to blog on a regular basis. Maybe you can start adding your own photos to Instagram or uploading a video on Youtube of your very own. You could be the next big internet sensation!