Seven Wonders of the World Seven Wonders of the World Even today there are many people who do not know about the seven wonders of the world, so today we are going to tell you about this topic with photos and tell you that the seven wonders of the world Wonders are being selected since ancient times It is believed that the first idea of choosing wonders came 2200 years ago to Herodotus and Kallimchus, who first prepared the list of wonders.


These included 7 wonders of the world, however the wonders chosen by them have now been destroyed, so now it was thought of choosing new wonders. Some engineers and researchers had prepared a list of new wonders but it was not approved by the world. After this a special process of selecting the wonders was resorted to.
How the Seven Wonders of the World Were Chosen
The idea of bringing new 7 wonders of the world came in 1999, in this way an initiative to choose new wonders was started. This initiative was taken in Switzerland and for this a foundation was formed. This foundation had built a site in which a list of about 200 world heritage sites was first made.
Then a poll was started, this poll was started through internet and mobile. In this poll, about 100 million people voted through the net and phone. This voting lasted for a long time and its result came in the year 2007, now we were in front of the new seven wonders of the world, which were chosen by the people of the world through voting.
seven wonders of the world which are beautiful miraculous amazing
Great Wall of China
Taj Mahal
Petra
christ redeemer
Machu Picchu
Colosseum
Chichen Itza
China Wall the Great Wall of China about's
The wall of China was built by many rulers of different states to protect against northern invaders, which was later added gradually, this wall is so big that it can be seen from space, this wall was built from the 7th century. It took place till the 16th century. This wall extends from East China to West China, its length is about 6400 km, while its height is about 35 feet.


On the other hand, if we talk about its width, then 10 people can walk comfortably on this wall simultaneously. At that time soil, stone, wood, brick etc. were used to build this wall. It is believed that about 20 to 30 lakh people had put their lives in the construction of this wall.
The Taj Mahal Agra India abouts world wonders
The Taj Mahal, located in Agra, India, is also one of the seven wonders of the world. Let us tell you that this Taj Mahal was built by Mughal Emperor Shah Jahan in memory of his wife Mumtaz. The Taj Mahal, a specimen of beautiful artwork, was built in 1632. It took about 15 years to make it.


To build this Taj Mahal, Shah Jahan had ordered white marble stone from all over the world. The Taj Mahal made of white marble is completely white and has a garden around it. Tourists from all over the world keep coming to see it.
Petra (Jordan) world wonders about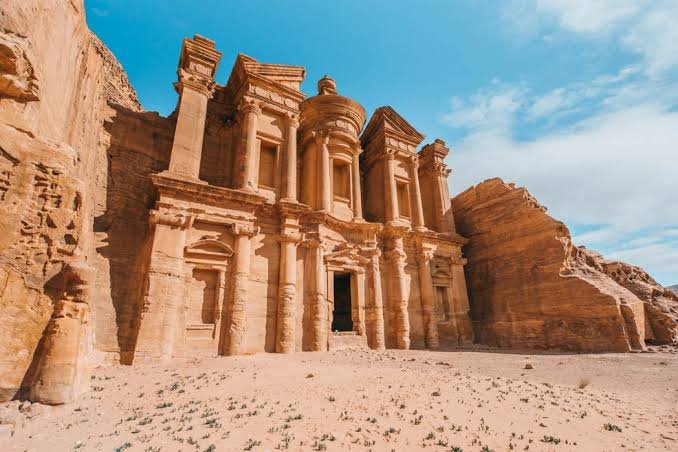 Petra is a historical city located in the Ma'an province of Jordan, which is known for its large rocks and stone-carved buildings. In this city, you will get to see more than one building carved out of stone. It is believed that its construction work started around 1200 BC.


On the other hand, if we talk about today's time, today this city is known as a famous tourist destination. Petra has got the status of being a World Heritage by UNESCO, as well as this city is also included in the Seven Wonders of the World.
Christ the Redeemer Statue (Rio de Janeiro) about
This is a statue of Jesus Christ installed in Rio de Janeiro, Brazil, which is one of the tallest statues in the world. This statue is located on the top of Corcovado Mountain in Tijuca Forest National Park. Let us tell you that the base of this idol is 31 feet, which together makes its total height 130 feet while its width is 98 feet.


Its weight is about 635 tons. It is believed to have been constructed between 1922 and 1931. Made of strong concrete and soapstone, this statue was designed by Silva Costa of Brazil. It was prepared by the great French sculptor Lendowski.
Machu Picchu (Peru) world wonders Abou
Machu Picchu, included in the wonders of the world, is a historical site located in the South American country of Peru, where the pre-Columbus era, the Inca civilization used to live. The height of this historical place is 2430 meters above sea level, now it is a matter of thinking that how people used to live at such a height. This site is located 80 kilometers (50 mi) northwest of Cusco.
Read this – biography of Virat Kohli


According to researchers, it is believed that it was built by King Pachakuti around 1400. However, later this place was conquered by Spain and it was left as it is, after which the civilization here has gradually been destroyed. But in 1911, it was discovered by American historian Hiram Bingham and this historical site was brought to the world.
The Roman Colosseum in (Rome) world wonders about
This is a huge stadium built in the center of Rome city of Italy, where in ancient times animal fighting, sports, cultural programs etc. used to take place. Its construction was started by the then ruler Vespian between 70th – 72nd AD and it was completed by Emperor Titus in 80th AD.


It is one of the oldest architecture in the world. Although it has been destroyed a little due to natural calamities and earthquakes, but even today its vastness remains the same. In ancient times, 50 thousand to 80 thousand people could sit together in this stadium. This stadium is made of concrete and sand. Due to its vastness, it is included in the seven wonders of the world.
Chichen Itza in Yucatan Peninsula, Mexico world wonders about
Chichen Itza is an ancient and world famous Mayan temple in Mexico that was built in 600 BC. Let us tell you that this temple is spread in a radius of 5 km, this temple is in the shape of a pyramid, whose height is 79 feet, stairs have been made all around it to go up, it has 91 steps in every direction, thus in total it has 365 steps. Which is a symbol of 365 days of a year. Chichen Itza is the largest city of the Maya, its population is also very high.
Summury of seven wonders
So now you must have come to know about the Seven Wonders of the World i.e. Seven Wonders of the World in Hindi. Here we have also shared their photos, so that you must have got a little bit of knowledge about them. It is a matter of great pride for us that the Taj Mahal of our country is also included in the seven wonders of the world. Everyone wants to see these 7 wonders of the world, but not everyone is able to see them due to their economic condition, although everyone can see the wonders located in their own country.
Read this – amazing facts about Taj hotel