BJP's Amit Malviya said Owaisi is playing the victim card and instigating mob while chief minister KCR has surrendered to him.
On Raja Singh episode, BJP says Owaisi is 'one-seat wonder' but KCR…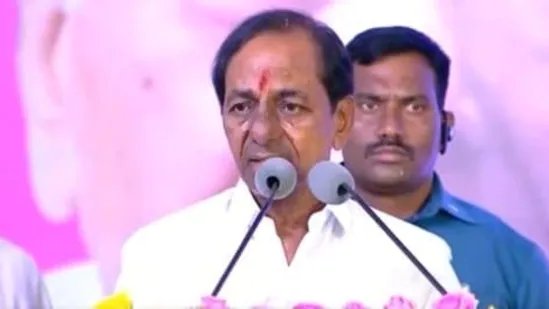 Telangana chief minister K Chandrasekhar Rao has completely surrendered to AIMIM and its chief Asaduddin Owaisi, the BJP said on Thursday in a jibe after suspended BJP leader T Raja Singh was arrested for the second time — after his comments on Prophet Mohammed. Slamming KCR, BJP's Amit Malviya said he is playing with fire while Owaisi is both playing the victim and instigating mobs. "Owaisi is a one seat wonder but KCR has whole of Telangana on gamble," Malviya tweeted. Also Read: Hours before arrest, T Raja Singh slammed KTR, Owaisi in new video
Hyderabad was on the boil after Raja Singh posted a video on Shree Ram Channel Telangana on YoTube on August 22 in which he uttered 'blasphemous' words. He was arrested on Tuesday but was granted bail as the police did not issue prior notice. On Thursday, the Telangana Police booked him under the Preventive Detention Act, which does not require issuing notice. Raja Singh was suspended from the BJP in the wake of the controversy.
BJP hates Hyderabad's development, harmony: Owaisi

AIMIM chief Asaduddin Owaisi posted a video appeal urging the people of Hyderabad to raise no slogan amid Friday prayers as their demand for Raja Singh's arrest has been fulfilled. "BJP had declared surgical strike om Hyderabad. They have always hated Hyderabad's development and communal harmony," Owaisi said.


'If this is how desperate BJP is for one bypoll'

Tempers are rising high in Telangana ahead of the Munugode assembly by-election which is being considered a litmus test before the assembly election in 2023. The by-election has been necessitated after Komatireddy Rajagopal Reddy resigned from the Congress and joined the BJP.


"If this is how desperate BJP is for one bypoll, what'll it do in general elections? It wants to set the state on fire. It wants burnt homes, empty shops, closed schools & curfews. Inshallah, won't let them succeed. Telangana will be mukt of violence as long as it's mukt of BJP," Owaisi said on Thursday.