World Bollywood Day September 24,2023, History significance, Facts
Have you ever tried Bollywood dancing? On September 24, World Bollywood Day, it's time to embrace your inner Priyanka Chopra or Shah Rukh Khan and celebrate this incredible dance form featured in films that are adored not just in India but all around the world.


Bollywood is a well-known dance style that is popular among the desi community and is employed in Indian movies. The dance moves include a variety of forms, including belly dancing, "kathak," Indian folk, Western popular, and modern jazz, and they are in keeping with the South Asian film industry's creative and commercial framework. not to mention at desi "shaadi's" (weddings)!
Best health and beauty products
History of World Bollywood Day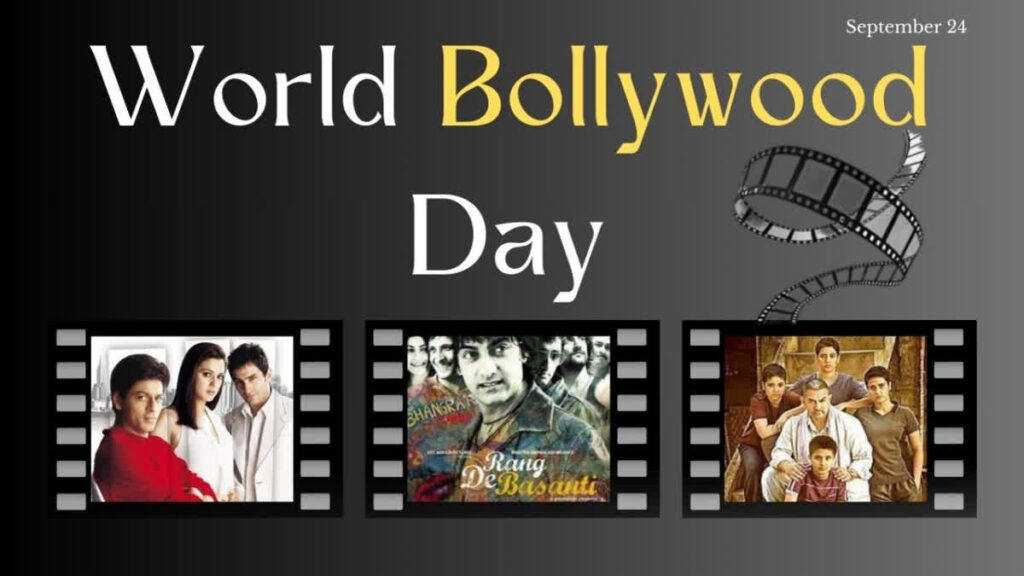 When the Indian cinema business first emerged in the early 1900s, it began with silent pictures, just like Hollywood. However, the business started to expand in the 1930s when talking movies first appeared in the form of Bombay Talkies. It was distinct from Western movies in that the actors served as the main attraction rather than the real plot or narrative.
Bollywood, a mixture of the words Bombay and Hollywood, was given to the Indian film business in the 1970s when it was able to surpass the US Hollywood sector. Bollywood refers more to the concept of the industry than Hollywood, which is the name of a real city and the place where many movies are produced.
Bollywood remained popular even after Mumbai replaced Bombay as the name of the city in 1995. As Bollywood expanded throughout the twenty-first century, it continued to produce a staggering number of films every year—roughly 1000 annually.
Long dance routines and song choruses are particularly well-known features of Bollywood entertainment. In fact, it is widely recognized and accepted that the majority of the actors lip-sync to songs that are performed by others rather than doing their own voice work for the songs. This has started to change recently as several performers have shown they can sing, but lip-syncing is still a common practice.
The Bollywood film business, which has a 3 billion-strong global fanbase, appears to be here to stay. And getting ready for World Bollywood Day is the ideal way to participate in the craze!
WORLD BOLLYWOOD DAY TIMELINE

1913
Release of the first Bollywood movie
The first Indian-made film to be made available for screening in Bombay is "Raja Harishchandra".


1937
Released in Bollywood in color, "Kisan Kanya" is usually regarded as the nation's first locally produced color movie by Indians.


1970
Bollywood internationally
Western society began to take an interest in Bollywood as it began to attract attention from individuals from many nations and cultures.


1990-2020
The new era
Bollywood from the 1990s and on is referred to as "New Bollywood" because of its revived environment of films and dance that imitate Western cultural trends.
RECOMMEND STORIES
5 AMAZING FACTS ABOUT BOLLYWOOD INDUSTRY

Bollywood is One of the World's Largest Film Industries:
In terms of the quantity of films produced, Bollywood, which has its headquarters in Mumbai (formerly Bombay), India, is one of the largest film industries worldwide. It often releases a sizable number of films annually, encompassing numerous genres, tongues, and themes.

The Term "Bollywood" is a Portmanteau:
Combining the words "Bombay" (the previous name for Mumbai) and "Hollywood" (the illustrious American film industry), the phrase "Bollywood" is used. This mashup demonstrates Hollywood's effect on India's film industry and the country's role as the country's center of entertainment.


Bollywood Movies Often Include Song and Dance Sequences:
The presence of song and dance scenes is a distinguishing feature of Bollywood movies. These musical interludes add complexity and entertainment value while also being essential to the narrative. Bollywood films use a variety of musical genres, ranging from classical to modern and everything in between.


Iconic Stars and Legendary Filmmakers:
Bollywood has given the world renowned performers and actresses like Amitabh Bachchan, Shah Rukh Khan, Aishwarya Rai, and a host of others. Additionally, it has influenced the development of the industry by giving rise to notable directors like Raj Kapoor, Yash Chopra, and Karan Johar.


Bollywood's Global Reach:
Bollywood films have a large international following, with viewers in nations far outside of India. These films have become well-liked throughout the world thanks to their ability to successfully cross linguistic and cultural barriers. International music, fashion, and even Hollywood movies with Indian influences can all be traced back to Bollywood.
How to Celebrate World Bollywood Day
Participate in World Bollywood Day by commemorating it and celebrating it in many ways, such as some of these suggestions:

Watch a Favorite Bollywood Movie (or Several!)
What could be a better way to observe World Bollywood Day than by viewing a few Bollywood movies, whether that be individually or as part of a daylong marathon! The best thing about Bollywood movies is that there are so many of them and that Bollywood takes up so much of the worldwide film market that there always seems to be something new to watch, whether it's today or any other day.

A word of caution: these movies are notoriously long, with each one usually lasting two or more hours. Consequently, you get your money's worth. Therefore, bear it in mind as you schedule the movie marathon!

Here are only a few of the most well-known Bollywood films that, for die-hard fans, might be entertaining to start with or rewatch:
1995's Dilwale Dulhania Le Jayenge. Bollywood love comedies are held to a higher level because to this contemporary classic. Shah Rukh Khan and Kajol play two young people who fall in love while traveling through Europe on backpacks.
Pyaasa, from 1957. The story of an unsuccessful poet who is assumed to be dead owing to a sequence of terrible occurrences is told in Pyaasa, a film that is ultimately considered to be a masterpiece from the early days of the Indian cinema industry.
the 2004 film Veer-Zaara. An Indian Air Force soldier falls in love with the daughter of a Pakistani politician, sparking a 22-year love affair that is the subject of this drama-filled film.
2013's The Lunchbox. In this heartwarming movie, a woman tries to save her marriage, but certain unfortunate events lead her to forge a new bond with someone else.
FAQS
Why is called Bollywood?

Bollywood is a portmanteau, or word combination, that combines Bombay with Hollywood. The Hindi-language Indian film business is located in Bombay, currently known as Mumbai; it is also referred to as the Hollywood of India.

How many movies are there in Bollywood?

As of 2021, it is estimated that more than 10,000 movies have been made in Bollywood.

Who is the first hero in India?

The first actor in India was Dattatraya Damodar Dabke.