Six months after Russia launched its invasion of Ukraine, and with no end in sight, here is how Ukraine is dealing with the consequences.
After 6 months of Russia-led war, conflict-torn Ukraine continues to face harsh aftermath
In Ukraine's Bucha, close to Kyiv, Orthodox priest Father Andriy blesses the coffins of unnamed civilians killed by Russian troops during Russian occupation.
On the outskirts of Kyiv, at Ukraine's Bucha, there are rows of plastic bags filled with bodies that have been dug up from mass graves.
In Bucha, Ukraine, dead bodies of men, some with their hands tied behind their backs, are found on the ground.
Ruslan Huseinov, a police officer in Ukraine, is seen standing on a collapsed bridge in the Ukrainian city of Irpin, which is located outside of Kyiv.
On the outskirts of Kyiv, Ukraine, a crowd of Ukrainians cram under a collapsed bridge as they attempt to flee across the Irpin river.
Locals who fled the cities taken by the Russian troops in March and February crossed over at the now-demolished bridge to Irpin.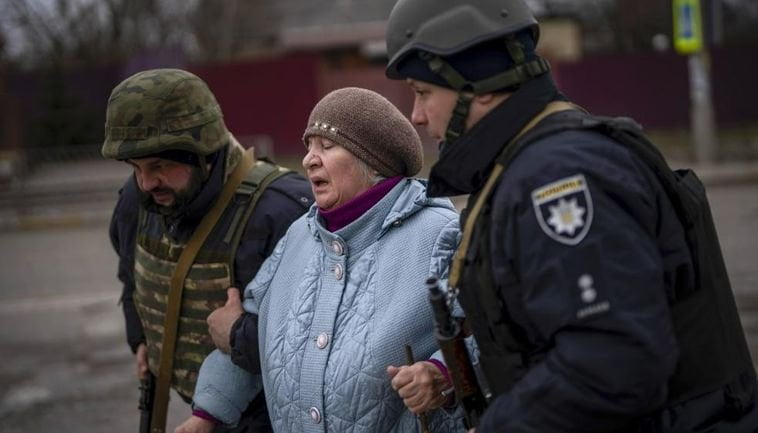 In the Ukrainian city of Irpin, on the outskirts of Kyiv, police officer Ruslan Huseinov, left, assists a woman who is running while the sound of artillery can be heard nearby.
In the Kharkiv region of Ukraine, a Ukrainian MSLR called "Verba" is fired toward Russian positions on the front line.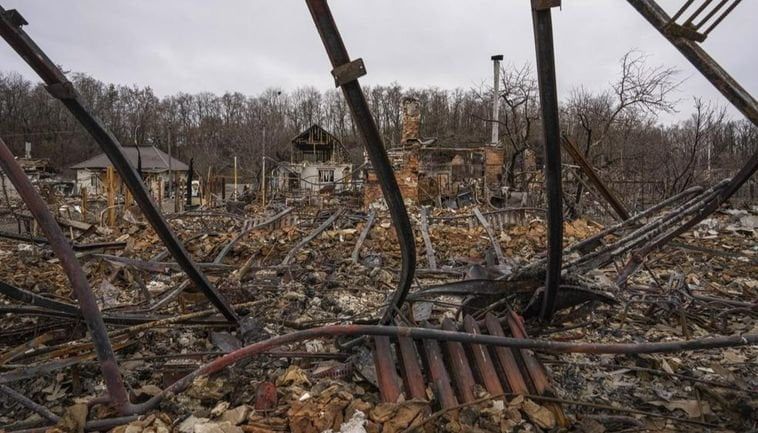 Houses in the Ukrainian village of Novoselivka that were hit by shelling from Russian forces.
In the Ukrainian village of Novoselivka, close to Chernihiv, 12-year-old Danyk Rak stands with his grandmother Nina on the remains of their home that was destroyed by Russian forces' shelling.