Chivas vs Pumas: kick-off time, channel, how to watch on TV and stream online
Guadalajara and Universidad Nacional will meet on matchday 11 of the Liga MX Apertura 2022 this Saturday, August 27 from 10:00 p.m ET.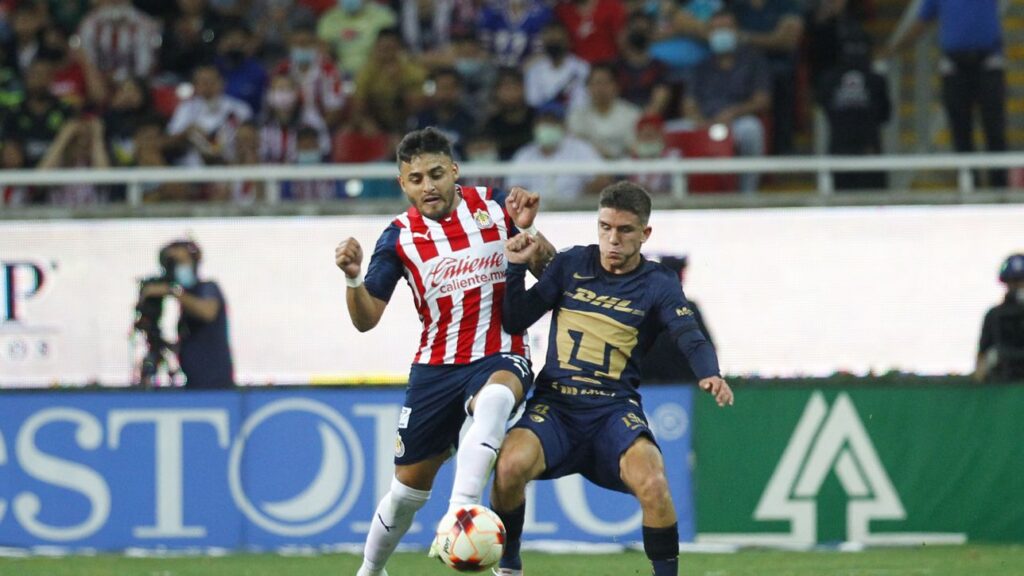 The biggest match of matchday 11 in the Liga MX is without doubt between Chivas and Pumas. Guadalajara comes into this match after two wins in a row and the red and whites are looking to keep the comeback going as they reverse course after poor results at the start of the competition. And this is a big chance to give their fans something to celebrate as they go for three points and look to establish themselves in the playoff positions. Chivas are all too aware that by closing out the championship well, they increase their chances of going for the Liga MX championship, something they haven't achieved since 2017.
On the other hand, Universidad Nacional haven't been able to win since the arrival of Dani Alves. With just one victory so far this season, Andrés Lillini's continuity hangs in the balance. As if this were not enough, the Argentine coach has to deal with the multiple injuries the team have suffered in recent weeks. The rollercoaster of emotions this match will bring starts at 10:00 pm ET, that's 9:00 p.m. local, on Saturday, August 27, on the Akron Stadium field.
When things seemed to be worse than ever, Chivas managed to get a break after two wins in a row. They come in fresh from beating Necaxa by a landslide and defeating Monterrey, who are top of the table. With these two results, they managed to get into the playoff zone again. Now, a third victory could give them the emotional boost they need to finish strong and think about having a real chance for the championship. Ricardo Cadena seems to be finally responding to the patience he received from the board despite a bad start to the season, taking nine attempts to win their first match.
On the other hand, the Pumas have now gone eight games without a victory. Andrés Lillini is on the tightrope and will face this match with the absences of Julio González, Higor Meritao, Arturo 'Palero' Ortiz, Eduardo 'Toto' Salvio and José Luis Caicedo. The Argentine coach knows that he is simply not allowed to lose this match – the three points are a must.
What time is Chivas vs Pumas, Liga MX

This match between Chivas and Pumas starts at 10:00 p.m. ET, that's 7:00 p.m. PT, and 9:00 p.m. local time, this Saturday, August 27 from the Akron Stadium field to play the eleventh date.
Where to watch Guadalajara vs Universidad Nacional, Matchday 11, Liga MX, Apertura 2022

In the US you can watch Chivas vs Pumas on NBC Universo, Telemundo Deportes En Vivo, Telemundo, Peacock or live stream it on fuboTV.

In Mexico you can tune in on channel 5 or channel 7 which have the game open to the public. It will also be available through TUDN on pay TV.