Favourite India vs Pakistan moment – the perfect Tendulkar stroke or Saqlain running home?
With India and Pakistan set to meet for the first time in ten months, we asked a few of our writers their favourite white-ball India-Pakistan moments from the 21st century.
Tendulkar's punch
2003 World Cup, Centurion

Say the words Sachin and Centurion, and that iconic slash off Shoaib Akhtar for six over third man is what people (Indian fans?) remember most vividly. Largely because it was so utterly unexpected so early in the chase.
For me – watching in a packed, raucous college common room – the best memory of that Sachin Tendulkar innings was his strokeplay through the off side against India's old tormentors, Wasim Akram and Waqar Younis.


Among the many cuts and drives that pierced Pakistan's infield with precision, one shot stood out. It was soon after Tendulkar had been dropped at mid-off by Abdul Razzaq off Akram. The delivery wasn't too different from the one that had nearly got him – on a good length from over the wicket, angling across the right-hander, just outside off stump. This time, Tendulkar moved across his crease with perfect balance, transferred weight on to his back foot, and brought down that famously heavy bat to punch the ball and send it screaming along the ground through extra cover.
It was the perfect Tendulkar stroke, and the sound off the bat was nearly as memorable as his pull off Andrew Caddick a few days before.

– George Binoy
Yuvraj Singh lbw Shadab Khan
2017 Champions Trophy final, The Oval

In many ways, Yuvraj Singh defined the ascendancy of Indian white-ball cricket in the 21st century: the audacious all-round skill, the athleticism and, above all, the strut. For a period in the mid-aughts, no side felt it more than Pakistan.


Yuvraj was pretty much done by the time he came to the crease at The Oval in the Champions Trophy final – he would only play three more ODIs after this game – but Pakistan would not have known that. Only two weeks earlier, he'd reminded them of what he was, with a 32-ball 53 in the group-stage thumping. So, when Shadab Khan trapped him with a lovely, sharp-turning legbreak in the 13th over, it wasn't just that the delivery was good – it was. But it was the confidence with which he pointed to the pad and convinced his captain to review it: "Pad he, pad he, pad pehle he (pad first, pad first)," because he was 150% sure of what had happened, 150% sure of his skills, 150% sure of himself even as an 18-year-old.
That assuredness stood in stark contrast to the cricket Pakistan usually played against India on these occasions, where they visibly shrunk. Yet here was Shadab, the audacious all-round skill, the athleticism and, above all, the strut, who grew. An ending and a beginning, all in one.

– Osman Samiuddin
Saqlain runs home
1999-2000 Carlton and United series, Gabba

Last ball of the match, one to win. Seven fielders on the single. Venkatesh Prasad runs in, doesn't leap into his stride, tries to run the non-striker out, but Waqar Younis – ready to sprint – has his bat in the crease and eyes firmly on the bowler.

**


Prasad bowls a slower ball, Saqlain Mushtaq misses wildly, and despite not stealing ground Waqar is in the middle of the pitch by the time the debutant wicketkeeper Sameer Dighe – back in his usual position – collects and underarms the throw.

**


Eleven players in one frame. Nine Indians hoping to make a play at the stumps. Waqar home. Saqlain in the middle of the pitch with his head turned back, about to realise his is the danger end now that Dighe has missed.
**

You can imagine Sachin Tendulkar, India's captain and now beside Saqlain, is willing the ball to hurry up, but it arrives too slowly. Tendulkar misses anyway. Saqlain, having completed the run needed to win, keeps running with his bat in the air.

**


Chaotic end to an old-fashioned ODI on a seaming pitch in Brisbane. Shoaib Akhtar, with figures of 8-3-19-1, then pushes a young fan out of the path of a speeding taxi as he rushes across the street for an autograph.

– Sidharth Monga
The review that lives on
2011 World Cup semi-final, Mohali


You can see why Ian Gould gave it out: the ball turned past the inside edge, smacked the front pad in front of middle stump, and the batter hadn't taken a particularly long stride forward. You can see why Hawk-Eye suggested it would have missed leg stump: the bowler had released from fairly wide on the crease, creating a significant initial inward angle, and the ball turned and still had a fair distance to travel.


A reasonable on-field decision, legitimately overturned. That both those things are possible is one of the many reasons cricket is so confoundingly beautiful.

But this was Saeed Ajmal to Sachin Tendulkar in an India-Pakistan World Cup semi-final, so it wasn't just another confoundingly beautiful moment. It became the stuff of conspiracy theories, charged by history and geography. And destiny.
Tendulkar was on 23, and batting fluently, serenely. Then this ball happened, and the rest of his innings was a struggle. He kept offering chances, and Pakistan kept shelling them. He made 85. India won.


Tendulkar had a World Cup to win. Everything would align to make it happen.

– Karthik Krishnaswamy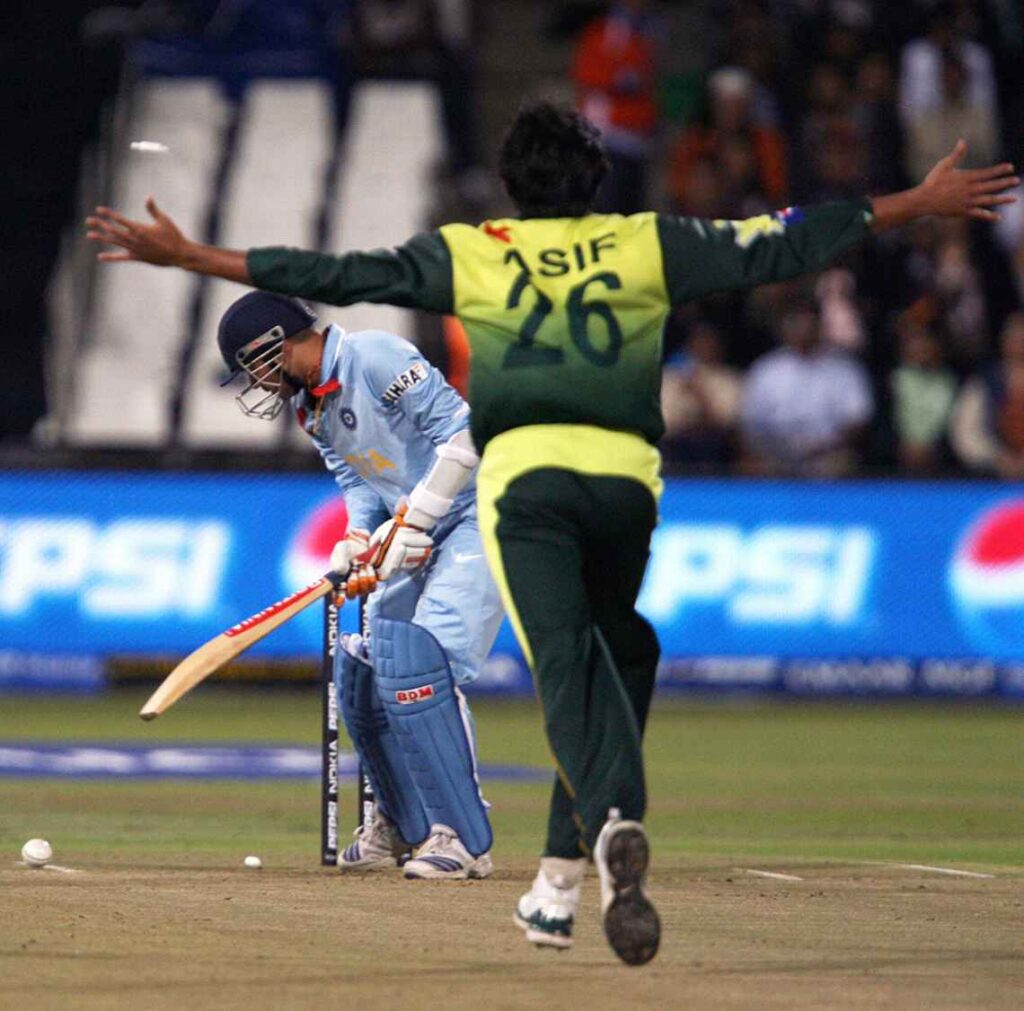 Mohammad Asif in full swing
2007 World T20 group game, Durban


The final almost consigns this game to history's scrapheap, but the India-Pakistan group stage game provided fans of Mohammad Asif (and who isn't?) the wistfully nostalgic hit only he can provide. Bowling first, Asif, whose gifts in the shortest format hadn't yet been as obvious, had India on toast in a scintillating opening spell.
There's no love lost between Gautam Gambhir and Pakistan, and it was just three balls in that Asif sent him back for a duck with a superb catch off his own bowling. It was the next three dismissals that were trademark Asif, though – Test match balls on a T20 surface. They all swung in wickedly almost in defiance of the laws of physics, and Virender Sehwag, Yuvraj Singh and Dinesh Karthik had no defence against them.


He was given the full four overs, and he had made them count. The arrogance and swagger in full flow by the end, he waved Karthik off to the pavilion. The Pakistan supporters were on their feet, and India on their knees at 36 for four. If a first Pakistan World Cup win was to come, Asif had made it possible.

And it would surely come now, wouldn't it?

– Danyal Rasool