Feast of St. Francis of Assisi – October 4, 2023, history, significance
Saint Francis of Assisi, the acclaimed Catholic friar, philosopher, mystic, and teacher, is celebrated by the Feast of Saint Francis of Assisi every October 4. He founded the men's Order of Friars Minor and the women's Order of Saint Clare, among many others.
This saint led a colorful and interesting life before devoting his life to God and becoming one of the most renowned Christians of all time. To celebrate him and commemorate his journey to the afterlife, the town of Assisi lights oil lamps for two days. Religious services are held and some children even bring their pets to be blessed on this day.


HISTORY OF FEAST OF ST. FRANCIS OF ASSISI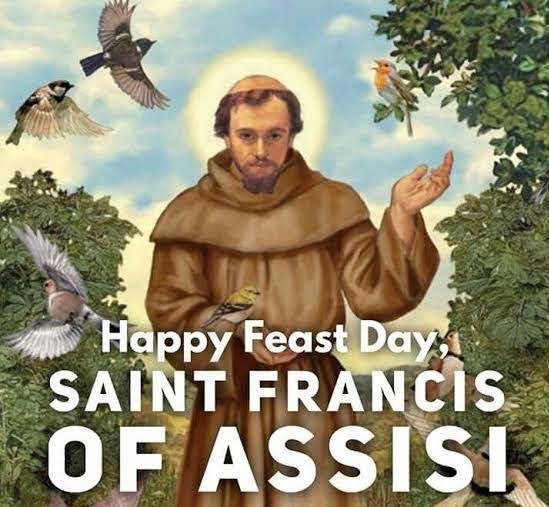 It's unknown if Francis was born in 1181 or 1182, but historians agree that he was born in Italy to a wealthy cloth merchant — right into the lap of luxury. Though he was baptized Giovanni, when his father returned from France with a penchant for all things French, he began to be called 'Francesco,' meaning, 'Frenchman.' As a teenager and young adult, Francis lived a carefree, wealthy lifestyle full of feasts and friends, yet he knew there was something missing.


After joining on a military expedition, spending a year as a captive, and dealing with a life-changing illness, Francis began to experience visions directing him towards God and away from the frivolity of mortal life and fun.
He joined the poor who were begging at St. Peter's Basilica in Rome and, in Italy, God spoke to him, asking him to repair his ruined church in Assisi. He illicitly stole some of his father's cloth, sold it, and offered to pay for the repairs to the church with the money. The priest refused stolen money, and Francis' father was livid.


To avoid his father, Francis lived in a cave in San Damiano, eventually renouncing his family and becoming a beggar. He gradually began to care for the poor and sick in Assisi. Soon, his preaching gathered him a following, and he founded the Friar's Minor. The noblewoman Clare of Assisi heard him speak and was inspired by his message and, with Francis's help, formed the order of the Poor Ladies, or the Poor Clares.


Francis would go on to travel throughout the globe, in places like Egypt and other locations in the Middle East to preach the gospel. When he returned to Italy, he reorganized the Franciscan orders, which had grown too large for the system in which they had developed. Franciscan missionaries were sent across the globe to spread the word of the gospel.


Near the end of his life, he was praying and fasting on a mountain when an angel appeared and gave him stigmata, or the wounds of Christ on the cross. He was treated in a hospital and was also suffering from trachoma. His last days were spent dictating his spiritual testament and he died on October 3, 1226. Two years later, he was pronounced a saint. The next day, the foundation for the Basilica of Saint Francis in Assisi was laid, and he was buried in a hidden tomb in the Lower Basilica on May 25, 1230.


FEAST OF ST. FRANCIS OF ASSISI TIMELINE

1181/1182
Francis of Assisi is Born
Francis is born to a wealthy cloth merchant in Italy.


1223
Francis Arranges the First Nativity Scene
St. Francis of Assisi is credited with setting up the first live nativity scene in honor of Christmas — much like the nativity scenes you see today!


October 3, 1226
Death of St. Francis of Assisi
After spending the last few years of his life almost completely blind, St. Francis of Assisi dies in 1226 as he recites Psalm 141 or Psalm 142, according to differing sources.


July 16, 1228
St. Francis of Assisi Canonized
Only two years after his death, the Catholic Church (specifically, Pope Gregory IX) recognizes him as a saint — the next day, the Pope lays the foundation for the Basilica of Saint Francis in Assisi.


1978
Remains Confirmed and Re-Entombed
After his hidden burial place is first discovered in 1818, a new, neo-classical style crypt is created and, in 1978, his remains are tested and confirmed by the Pope's commission of scholars and he is put in a glass urn within the old tomb.
RECOMMEND STORIES
HOW TO OBSERVE THE FEAST OF ST. FRANCIS OF ASSISI

Attend mass
As this is a true Catholic holiday to honor an important Catholic figure, going to mass and worshipping is one of the best ways to observe the holiday. The lessons learned in church and worship will honor the memory of St. Francis of Assisi.


Care for animals
Since St. Francis of Assisi is the patron saint of animals, there is no better day to care for animals as he taught us to do! Whether this is adopting a stray, donating to a shelter, or giving your own pets some extra caring, animal care is a great way to honor this saint.


Learn and teach about his life
Saint Francis of Assisi was one of the most charitable and kind people to have lived. His life had many chapters and his accomplishments spanned over many years. Today, read about his life and achievements, or teach your children so they might become more giving like him.


5 INTERESTING FACTS ABOUT ST. FRANCIS OF ASSISSI

He was believed to speak to animals
Once, it's said, he spoke to birds who then flew into the sky in the shape of a cross.

Just before his death, he received stigmata
Stigmata, the wounds of Christ appearing on the hands, feet, and side, appeared on St. Francis of Assisi two years before he died.


He wasn't an only child
St. Francis was one of a family of seven children.


He set up the first nativity scene
St. Francis is widely credited with setting up the first nativity scene in 1223 to celebrate Christmas.


He subscribed to actions over words
St. Francis of Assisi instructed followers to "Preach the Gospel at all times and, when necessary, use words" — he thought actions spoke much louder.


WHY WE LOVE THE FEAST OF ST. FRANCIS OF ASSISI

It reminds us to be charitable
It's easy to get wrapped up in our own lives and begin looking out for number one as opposed to our fellow man. St. Francis of Assisi, one of the most charitable and good religious figures in religious text, reminds us to stay humble and in service of others. In honor of his life today, we can all find a way to give back, especially to animals and the environment, of which he is the patron saint.


For Catholics, it reinforces religion
If you practice and believe in Catholicism, the Feast of St. Francis of Assisi is an affirming holiday that celebrates your beliefs, values, and religious heroes. The holiday is emotionally and spiritually significant to many Catholics worldwide.


It helps animals
It's on the Feast of Saint Francis of Assisi that many pets are blessed in churches, animal care organizations are donated to, and environmental and ecological causes are lifted up. This special holiday for the patron saint of animals and the environment reminds Catholics to say a prayer for the animals and earth, and donate time or money to these causes.