India's capital city Delhi is one of the oldest cities in the world. Many aspects of Delhi make it amazingly beautiful and famous. But the most important aspect which makes Delhi special is its diverse culture as people of different religions and communities share this city. One thing connected with every community and religion is their religious places. It is a common thing for Delhiites to visit multiple religious places for their culture and spiritual aspects.
Let's talk about the famous religious
Best Religious places temples in Delhi to visit to feel more connected to God
Kalkaji Mandir (temple) in Delhi for visit
Kalkaji Mandir is one of the most well-known and religious places in Delhi. The bakht's of maa kali visit this temple to get blessings. People believe the goddess Kali's is present here in a self-manifested form from the Satya Yuga. You can see thousands of devotees here, especially during Navratri time.
Read this – Best tourist places to visit near Delhi for a day trip
Chattarpur Temple in Delhi for visit
The Chattarpur Temple is devoted to Goddess Durga in her Katyayani form. The temple, which was built in 1974, exhibits South Indian architectural design. You can see a huge Hanuman Ji idol in the temple premise. Also, the mandir area is very huge and there are many small temples of almost every god and goddess of Hinduism.
Bangla Sahib Gurudwara in Delhi
Gurudwara Bangla Sahib is a well-known Gurudwara in Delhi. Here, you can spend your entire morning hearing the Guru Granth Sahib read and explained. On the day of Gurupurab, devotees from various religions flock to this Gurudwara, which is a sacred site for the Sikh community. Another highlight of the place is the langar that is served here throughout the day, which attracts people from all faiths.
Iskcon temple in Delhi
If you want to dance and enjoy yourself go to the lotus feet of Lord Krishna. Iskcon temple is the perfect place for people who find peace in music. You can dance to the tune of Hare Rama Hare Krishna and take blessings. The ISKCON temple in Delhi is known for its Bhagavad Gita Animatronics, Mahabharata Light and Sound Show, and a Ramayana Art Gallery. You can also see World's largest Bhagavad Gita, the book weighs over 800 kilograms and 670 pages. You can meet large numbers of foreign tourists here and among them, you can find many Krishna devotees.
Gurdwara Sri Nanak Piao Sahib in Delhi
This Gurudwara is devoted to Sri Guru Nanak Devji, the original Sikh Guru, and is just as impressive as Gurudwara Bangla Sahib. Sri Guru Nanak Devji used to camp on the site where this Gurudwara is now located. The name Gurdwara Sri Nanak Piao Sahib comes from the legend that Sri Guru Nanak Devji used to provide food and water to the thirsty and needy here.
Hazrat Nizammudin Dargah in Delhi for visit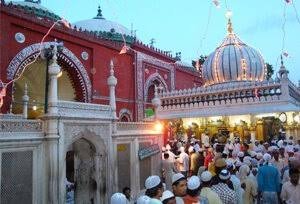 This dargah, which is dedicated to the Sufi saint Nizammudin Auliya, is a very important place for devotees from all faiths besides Muslims. As people may encircle themselves with the tranquility of this place, this is the ideal location for peace seekers. The Thursday qawwali evenings at this dargah are a must-attend if you want an authentic experience.
Sacred Heart Cathedral Church in Delhi for visit
This is the most peaceful place religious place; you can visit this place if you want inner peace. The church is adjoined by two schools and greenery. You can sit here quietly and do the meditation to calm your soul and mind in the presence of positive vibes and Jesus.
Birla Mandir in Delhi for visit
This temple is the center of the attraction for all tourists. The architecture of the temple is very beautiful. Birla Mandir is also known as Lakshmi Narayan temple. But the temple also houses temples of other gods such as Lord Ganesha, Shiva, and Hanuman. The temple is well-known for celebrating Janmashtami and Diwali and draws visitors from all over the world. It stands among Delhi's most well-known religious places.
Conclusion
I hope that you have liked my article and this article will make your journey happy and this article will give you better suggestions. There is a religious place in Delhi, you must go there too.
Read this – home remedies to remove acne and glowing face
Read this – 12 Places to Visit in Mumbai for the First-Timers